FEATURED STORY
Santiago Carvallo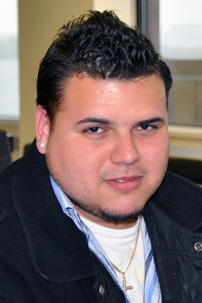 Santiago Carvallo is part of the first generation of Horizon scholars. He graduated from UMass Boston in December of 2009 with a major in Psychology. Carvallo found out about the Horizon scholars program through Dr. Ester Shapiro, the Community Engagement Core Director for the Horizon Center. Shapiro was Carvallo's mentor while he was part of the Latino Leadership Opportunity Program (LLOP) on campus.
His research as part of the LLOP focused on the mental health of Latino college students. Carvallo presented his research titled The Impact of Stress among Latino College Students' Mental Health to the Inter-University Program for Latino Research Panel in Washington D.C., sparking a strong interest in community issues in him.
When Dr. Shapiro told Carvallo about the Horizon Scholars program, he showed immediate interest and applied as a first semester senior in the spring of 2009. He was accepted to the program for the fall. As a Horizon scholar Carvallo has examined Community Advisory Boards (CAB) around the country. His research is focused in understanding how CABs are structured, how diverse they are and how they perform. Through interviews with administrators of different CABs he inquired about the boards' history, how they were created, how they reach out to community members and how they have an impact in their respective communities.
Carvallo's time as a Horizon Scholar has proven to be a valuable experience for him. "I have definitely improved my research skills. The program is great because it links you to good mentors. It's awesome because in a community like UMass Boston you get to do research while still getting some income to sustain yourself. I have also improved my presentation skills because I have presented my research four times."
Currently, Carvallo works at the McLean Hospital, in Brockton, MA, as a Community Resident Counselor, a position he has held since 2008. His job consists of counseling troubled adolescents with trauma, and troubled family backgrounds.
He was also an Intern at Girls Inc., in Lynn, MA, working as a substance abuse prevention advisor assistant. There he worked with girls coming from low socioeconomic backgrounds and underserved communities. "I realized those are the people I wanted to help, as many of them are immigrants and minorities. I worked with them running workshops on drug prevention. I did research on an amount of small businesses that were a few miles away from schools and were selling drug paraphernalia, and how this could have a negative influence for students. I learned a lot about things I didn't even know existed".
When asked why he had chosen the field of psychology for his undergraduate studies he said, "I have always liked the field. I had family members who had psychological traumas and I always thought that they should be working more on those issues. And I think that in the Latino community it is not usual to talk about those issues to try to resolve them."
Santiago was born in Lima, Peru. He immigrated to the United States with his family in 1999 when he was 13 years old. "I spoke no English so I worked my way from ESL". After graduating from high school he attended Bunker Hill Community College where he graduated in 2007 with an associate's degree in Psychology, he then transferred to UMass Boston.
Carvallo started a Masters Program in Social Work at Boston College, where he was offered a generous scholarship that covers 80% of his tuition.
Carvallo sees himself giving back to the community in the future and wants to help people from his same background. "I want to serve as an example for my community. The chances are significantly less for minority communities so there needs to be a strong organizational support. I hope to contribute to the members of the community by being a social worker. I want my story to be an inspirational one that other students can relate to and see that they can do it".
He wants to be a mentor for adolescents and youth and to be a support by providing assistance and guidance to them. "My goal is to continue striving to bridge the disparities among low income communities". A goal he shares with the mission of the Horizon Center.